Bungalow Muar Johor
Mrs. Low, Muar, Johor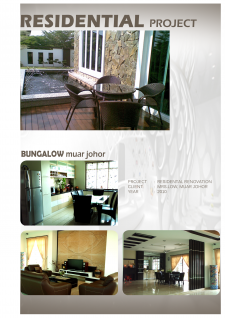 QUICK
INFO
The first thing you should remember when formulating the plan for your residential interior design is to be wary of the latest trends.
Trends can be fun while they're in-trend, but they can be an eyesore when they're out-dated.
If trends are not your forte, our interior designer may be helpful in choosing a plan that meets your unique personality. In the end, selecting a trend that withstands the fashion which is tests of time will increase the likelihoods that you will enjoy the look for many years to come.
Image
Gallery